Tournament players are expected to attach the greatest importance to fair play and good sportsmanship. In the event of any concerns, please do not hesitate to contact the Tournament Director.
Please remember to turn off your clock and reset your board after play!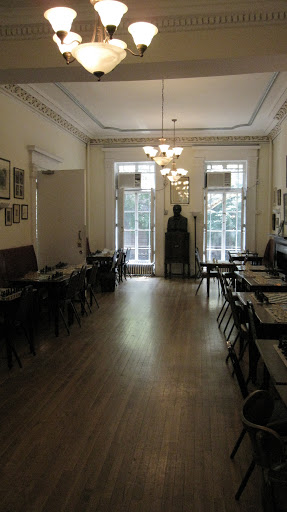 The Marshall Chess Club's tournament hall.
Use of cell phones in the tournament hall is prohibited. Cell phones should be turned off or silenced.
For FIDE events: The penalty for a phone ringing or otherwise disturbing play is the immediate loss of the game.
For USCF events (that are not FIDE rated): A warning and a time penalty will be issued for a first offense. A second offense will result in the immediate loss of the game.
Please request byes or withdrawals well in advance - at least one hour before the start of the round.
Advance requests will be confirmed by email to 
td@marshallchessclub.org
. Your request is not complete until you receive a receipt.
Same-day withdrawals and byes must be confirmed directly with the Tournament Director in the office.
Punishment for forfeit of games is a fine equivalent to the member entry rate, payable before registration to another event. Repeat offenders will lose tournament privileges!
If you win a prize you may pick your check up in the club office. Checks are held for 6 months, after which they can no longer be claimed.
Checks are mailed to prize winners by request only. If you would like your check mailed, please email
td@marshallchessclub.org
.
Reissuing a lost check is subject to a $30 processing fee.