Tournament Policy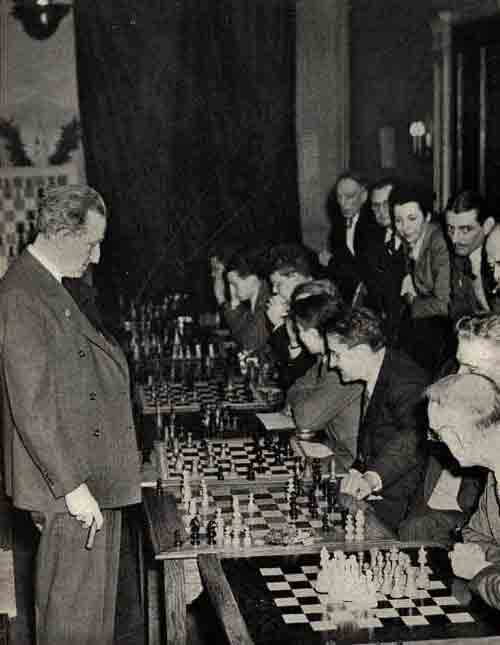 Frank Marshall playing a simultaneous at the Marshall Chess Club in 1943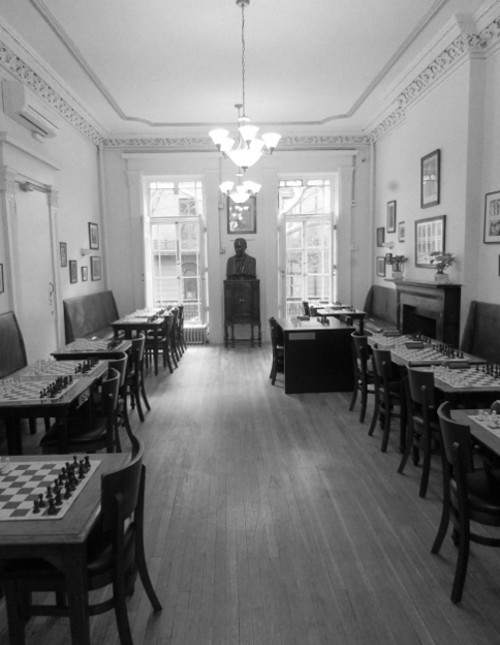 Main Hall today
Tournament players are expected to attach the greatest importance to fair play and good sportsmanship. In the event of any concerns, do not hesitate to contact the Tournament Director. Please remember to turn off your clock and reset your board after play.
All tournaments, unless otherwise advertised, follow standard rules per the U.S. Chess Federation's Official Rules of Chess. (Tournaments that involve being FIDE rated operate under the FIDE Laws of Chess.)
Our Tournament Directors are all certified by the US Chess Federation. Some are additionally certified to run FIDE events. We aim to run our tournaments with the highest level of ethics and integrity. In matters not explicitly covered by the applicable rules, Directors will use their best discretion and judgment, in consultation with MCC leadership where appropriate.
Byes and Withdrawals
Please request byes or withdrawals well in advance - at least one hour before the start of the round.
Advance requests will be confirmed by email to
td@marshallchessclub.org
. Your request is not complete until you receive a receipt.
Same-day withdrawals and byes must be confirmed directly with the Tournament Director in the office.
Cancelling a Bye Request
Per USCF rule 22C5: If the director agrees, a player may cancel an irrevocable half-point bye under the condition that if the player wins, the result will be treated as a draw for prize purposes.

The TD has the discretion to accept or deny a request to cancel a bye without providing an explanation.


Cell Phones & Devices
USCF rule 20N states: Without permission of the Arbiter/TD a player is forbidden to have a mobile phone or other electronic means of communication in the playing venue, unless they are completely switched off.

For FIDE events: The penalty for a phone ringing or otherwise disturbing play is the immediate loss of the game.

For USCF events (that are not FIDE rated): A warning and a time penalty will be issued for a first offense. A second offense will result in the immediate loss of the game.

The TD may request that a player leaves his or her device(s) in the club office for the duration of an event. If the player refuses, the TD has the right to withdraw the player from the remainder of the tournament without a refund.


Forfeits
Punishment for forfeit of games is $25, payable before registration to another event. Repeat offenders will lose tournament privileges! If we are unable to rate an event due to an expired USCF membership, a $25 penalty will also apply.


Disputes & Errors
If there is a dispute, players should pause their clock and get the TD immediately.
Players should report errors with recorded results, or other issues, by email to
td@marshallchessclub.org
.
Disruption of Games
USCF rule 20N1 states that the TD has the right to impose penalties on players and non-participating spectators who are disturbing play.

After a noise warning has been issued, the TD reserves the right to eject any player or non-participating spectator (i.e. a club member or guest) from the tournament (without a refund) and from the club premises.

Repeat offenders may be subject to a suspension from the club.


Guests
The Marshall Chess Club is a private club and only members are permitted to use our facilities. We do, however, permit tourists and prospective new members (who have never been to the club before) one visit to the club. Guests are required to visit the club office (on the second floor) to sign in.

Please note: Parents and/or guardians of scholastic members (under age 18) are permitted to accompany their child to the club and to be on its premises.


Hygiene
Players are expected to conform to normal grooming standards and to be free of body odors.


Notation Rules
Players are expected to follow all scorekeeping rules. In events with a 30 second increment, scoresheets need to up-to-date at all times.

Per USCF rule 15C, in games without an increment players may stop notating once either players clock goes below 5 minutes.

Per FIDE laws, players do NOT have to notate in FIDE rated rapid events.


Prizes
Prizes are sent via PayPal and winners are notified of their award via the email they used at registration.
If you win a prize you have up to three months to claim it; after three months it can no longer be claimed.
Physical checks are printed and/or mailed to prize winners by request only. If you would like your check printed/mailed, please email
td@marshallchessclub.org
.
Reissuing a lost check is subject to a $30 processing fee.
Ratings Conversions
In accordance with USCF rule 28D1, the club will use the formula USCF = FIDE + 50 to convert a player's FIDE rating for pairings and prizes. This will apply to any player without a USCF rating who has a FIDE rating.


Requests for Non-Pairings
The club reserves the right to deny requests by players not to be paired against each other. (For FIDE events, all such requests will be denied.)


Tournament Equipment
The club provides players chess sets, clocks, scoresheets, and pencils. The club reserves the right to order players to use the equipment it has provided at its own discretion and without providing an explanation.